Welcome to Giveria OT
Last joined us: Selencia. Welcome and wish you a nice game!
Currently, the best player on the server is: Arronw with 1150 level. Congratulations!
We actually have 6026 registered players on our server. Thanks You

GiveriaOT - Update client to 12.64
Dear Giverians,
In 13.04.2021, we are changing Tibi protocols to 12.64, so everyone who currently has an old client must DOWNLOAD a new one from the Download page.

- Improved character debugging on exp.
- Added new npc in temple -1 which gives us missions to get new addons and mounts.
- New items have been added to the store, including a new outfit and mounts.
- Tibia version changed from 12.60 to 12.64
- Added 2 new exp places (Behemoths and Diremaw)
Updates - GiveriaOT
Hello Giverian!
We've been working hard over the past few days to develop the server to make players play better and have more options, so we've added some new features, including:
- New cities of Oramond, Krailos, Roshamuul, Issavi and Feyrist!
- New Houses in the new cities mentioned above.
- A new summon style has been added to each profession, it is available to everyone who reaches level 500
This week we plan to add 2 npc from missions with reward rooms where, after completing the mission at npc, you will be able to receive rewards such as new addons and mounts
Have a nice game! Regards - GiveriaOT
Bunny Easter Event - GiveriaOT
Hello everyone!
From 01.04 to 06.04 There will be an Easter event on GiveriaOT, with an easter bunny

raid in the city every 2 hours, from which we have a 60% chance of getting an Easter Egg

We can open or sell Easter Eggs at a supermarket, depending on who you prefer!
The following items can be obtained from the Easter Egg:








(We have 7% to get these items)






(We have 5% to get these items)






(We have 3% to get these items)

(We have 2% to get this items)


(We have 1% to get these items)

x 25
(We have 70% to get these items)

x 25
(We have 50% to get these items)
Update - GiveriaOT
Hello dear Players!
Another Update on GiveriaOt:

- We added Golden Outfit to King Tibianus (300kk Full), if you wanna buy, you have to say Hi>addon
- Shared EXP now working fine. 4 diffrent vocation=100% Exp boost.
- New respawn with Infernal demons, brachiodemons and some Phantoms
- We added amulets and some rings like prismatic amulet, ring to temple -1 for silver tokens
- Task system working fine with teamhunt. (min 30%dmg for each player)
- Daily Mission working.
- New Boss Room.
- Now bosses will respawn at certain times, e.g. Ferumbras 20:15.
Also we added them some more health and dmg ! Be careful now
- Some bosses got extra loot like Golden helmet etc.
- The boss list will be added to the Library tab.
Now we're working on new quests, bugs, and a little surprise for our players
Your Support GiveriaOT
GiveriaOTS Restart and change engine to version 12.60
Hello Giverians, after longer discussions with the Administration, we came to the conclusion that Giveria needs to be rebuilt to rise like a Fenix from the ash and show itself to the world !
On 07.02.2021 there will be a character restart and the server will be closed, because we are switching to client 12.60, which gives us more opportunities, the latest items, the latest hunting grounds and the latest quests. All this is possible only after changing the Client.
Players who have purchased Points via Paypal will be able to submit a special request to return these points for the new edition. Everyone will get a 50% refund of the points purchased. We are aware that the reboot of characters in games of this type makes a big confusion, but we guarantee you that we have a completely changed server prepared, which you will not find on the market today!
What awaits us and why is it worth staying with us?
- The latest Winter 2020 update
- Soul War Quest 400+
- The newest outfits, Mounts available for Giveria Coins!
- Inbuing system working as on Rl Tibia for gold tokens!
- Custom system to exchange Giveria Coins for Tibia Coins or other useful things!
- Boss raids in special rooms + raids on hunting grounds (eg Izcandar Champion of Summer respawns periodically on summer elves exp)!
- Special Task system for monsters from hunting grounds
- New, better proffesion balance !
Start GiveriaOT 12.02.2021 time 17:00
Exp Rate :
1 - 50 level: x100
51 - 100 level: x50
101 - 150 level: x20
151 - 200 level: x10
201 - 300 level: x7
301 - 400 level: x5
401 - 500 level: x4
501 - 700 level: x3
701+ level: x2
Winter Update 2020
(Rascoohan Outfits, Raccoon backpack, Exotic Cave Spider cave, PiRat Mines)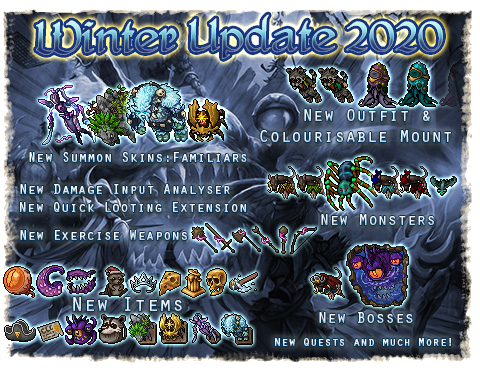 Summer Update 2020
(Claustrophobic Inferno, Rotten Wasteland, Mirrored Nightmare, Soul War Quest)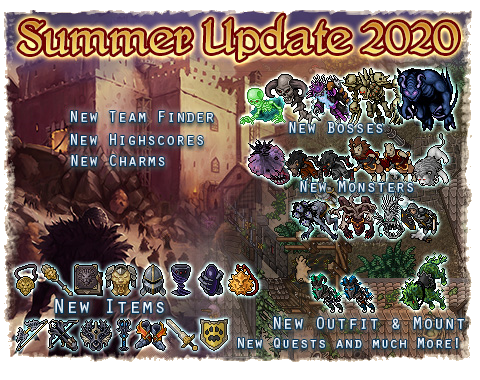 Winter Update 2019
(Barren Drift, Zarganash, Brain Grounds, Netherworld)
Summer Update 2019
(Issavi-new city, Kilmaresh-new island, Cobra Bastion, Kilmaresh Quest-new mount)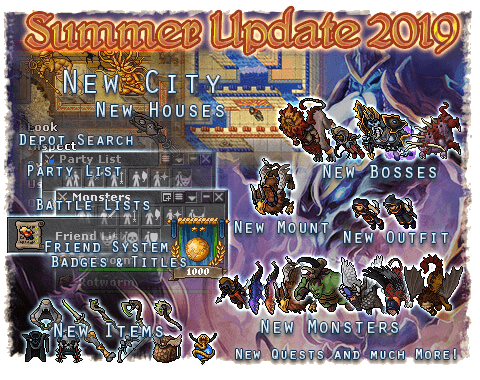 Some pictures from GivariaOT
Loaded in 0.0154 seconds.
Giveria.com